Senior Account Manager/Account Director
Description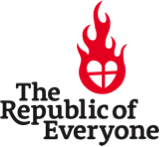 We believe the world needs more good.
At Republic of Everyone we work with companies that do the right thing and people who fight for what's good for 'we' over what's good for 'me'.
And we have a great time doing it.
We're a small, collaborative and fast-paced team who do not believe in suits vs creatives. You will be organised and a strong communicator, but also creative and strategic. You will work on jobs of all sizes, up-skilling more junior team members and working with each and every other person in this business.
Our projects are multi-faceted and we pride ourselves on achieving the unachievable to create true, positive change. We offer meaningful work, an incredible office culture and lots of other perks - keep reading if this sounds good to you!
Key responsibilities
Manage and develop strong relationships with key clients, helping to grow their business and becoming the trusted point of contact and advisor

Understand the trends and influences within the client's market in order to proactively add value before, during and after live projects

Assume responsibility for quality and delivery on all your projects, even where you are supporting others as the day-to-day contact

Manage all financial details of projects (profitability tracking, ongoing analysis and invoicing) and work with the Head of Projects to understand the profitability of the business and help drive growth

Coordinate with the accounts and operations team through financial forecasting, capacity planning and weekly financial reports

Build a strong relationship with all internal teams in order to effectively drive forward your projects (and support our awesome team culture!)

Foster and up-skill junior team members and contribute to the overall effectiveness of the account service team, as a whole
Experience
Demonstrated understanding and experience of:

Marketing

Brand

Advertising effectiveness

Bachelor's Degree in relevant field

Minimum 5 years experience in a project management/account service role

Proven capacity to collaborate and deliver complex, fluid and integrated projects with other teams (incorporating creative, digital, PR and other external partners)

Ideally you'd have experience managing juniors, but we can work with you on that
About you
A real people person - you are enthusiastic, sociable, articulate, resilient and confident

You love a challenge and are eager to try new things - even when the path is not clearly laid you maintain a sense of positivity and drive, bringing others on the journey

You're calm in the face of a crisis and able to guide others through it

You thrive in a team environment and will develop a genuine interest in the agency's projects, and thereby our client's businesses

You have an eye for excellence
A few other things you should know about us
We're

award winning

and

city changing

We have training and support programs for all staff

We provide a health allowance, a pool pass (we're opposite Prince Alfred Park) and free bicycle servicing for all employees

But Friday chips and vinos are also on us every week
Interested?
Please send your resume along with answers to these questions to lucy@republicofeveryone.com:
Tell us about the most complex project you've managed. What were the challenges you faced and how did you solve them?


Do you have any extracurricular activities or passion projects you could tell us about? 

YOU TELL US!? – something awesome or great that will help prove you're a good fit for Republic of Everyone!
Please note this is a maternity leave cover for 9 months with a view to extend commencing January 2019.