Description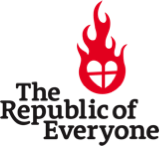 We believe the world needs more good.
At Republic of Everyone we work with companies that do the right thing and people who fight for what's good for 'we'over what's good for 'me'.
As a copywriter with us, you will be working closely with the rest of the small creative team to creatively problem solve – you'll think a lot and write a lot. Sometimes you'll save the world with a good line, a good social campaign or a good branding name, and sometimes you will spend days to read and write a report which will help our clients do good. We are not a traditional agency/studio and run somewhere between the two in terms of the creative department's outputs.
We are looking for someone who is the right fit culturally, and has a keen interest in sustainability and saving the world through creativity. We need someone positive and enthusiastic.
You will play an important role in the creative department as our new copywriter. We are ready to train you and we hope to rely on your skills more and more as you learn and grow here. 
KEY RESPONSIBILITIES:
Together with the creative team, you'll come up with creative concepts, create strong campaigns, write fun video scripts, and you'll also be learning about sustainability and writing long form copy.
YOU ARE: 
A keen learner: We love teaching and training, so you don't need to know everything or be perfect at anything. But as a key member of the creative department, you will need to have a willingness to learn and a thirst for knowledge. Working in the sustainability sector certainly has its learning curves.  
Full of initiative: You also have the initiative to teach yourself and us new skills through project work.
A creative problem solver: You will need to ooze creativity. You will need problem-solving skills and be energised by design and creative challenges. We are a small team and often bounce ideas around with each other and expect your input. 
A teamplayer: You will be happy to take direction, as well as working autonomously at a task and take responsibility for projects.
SKILLS REQUIRED:
+ Previous experience in an agency/creative department
+ You have good ideas
+ You love writing
+ You're a quick thinker, a problem solver
+ You're not afraid of long form copy

+ Social media-digital platforms – you know how it works
+ Experience in brand naming
+ You know how to team up with a designer/art director
+ Proficient in Keynote/Powerpoint/Microsoft suite
+ Nice-to-have: be comfortable with report writing – especially sustainability 
AND GENERALLY WE'LL EXPECT YOU TO:
+  Take control and assume responsibility for projects under the supervision of the head of design/creative director.
+ Manage time (and your timesheets!), speak up when feeling pressured before deadlines are imminent.
+ Build a strong relationship with internal RoE team – Project Managers, Creative & Strategy – in order to achieve the best outcome for the client. 
+ Represent the agency culture internally and externally.
+ Contribute to our music playlist :-)